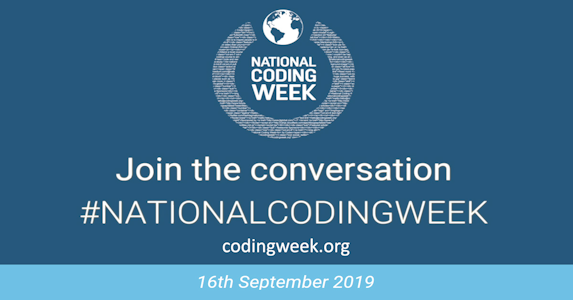 Why we are keen to support National Coding Week
"I've always wanted to support enthusiastic individuals who share the same passion I had back in 1986, when I started my journey into coding," said Bytes Ahead director, Brent. "Supporting National Coding Week seems like just one way we can do that!"
National Coding Week is a volunteer-led organisation founded in 2014. It aims to help build people's confidence and skills by encouraging volunteers to run fun and engaging digital events. The week itself gains popularity and audience every year and has gained some pretty high-profile sponsors and supporters. In 2018, more than 200 schools across the UK took part – as well as libraries and businesses.
In 2019, National Coding Week runs from 16th to 22nd September.
The Bytes Ahead team have decided to set themselves the challenge of designing a simple piece of code that builds up in steps to achieve something fun. Keep an eye on their website to see how the challenge comes together if you'd like to take part.
The team decided to do this using a Raspberry Pi www.raspberrypi.org computer. A Raspberry Pi is a low-cost (starting from about £25), high-performance computer that people can use to learn, solve problems and have fun. It's only a little bigger than a credit card and has optional accessories, from a camera to a full desktop kit. It makes Raspberry Pi an ideal starting point for anyone interested in learning to code.
"Software development is my passion, not a job, and I love see clients using the software I've written to achieve their goals," Brent said. "If we can inspire just one or two individuals to have a go, for me, it makes taking part in National Coding Week worthwhile."
You can find out more about other events going on during National Coding Week, visit their website at: codingweek.org or follow their social media feeds, using the hashtag #nationalcodingweek
Twitter: @codingweek
Facebook: @nationalcodingweek
Instagram: nationalcodingweek