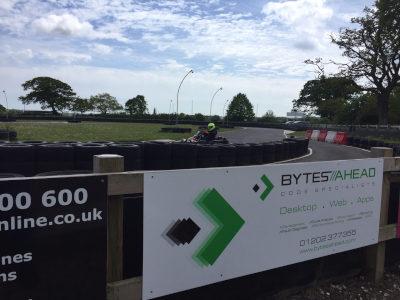 Advert at South Coast Karting – Spring 2019
Bytes Ahead have splashed out on some advertising, in support of another local business.
It's no secret that our Director, Brent Campbell, is a bit of a petrol head when he's not coding, so it isn't really a surprise that he has found a way to link his interest with his profession.
"South Coast Karting are a super local business and provide a great, affordable on-track experience for anyone who wants to have a go," Brent explained. "When the opportunity to have an advertising board trackside came up, I was only too happy to buy the spot!"
Brent and team member, Tom, visited the track recently to see the board in place – and couldn't resist taking a couple of photos from the podium.
South Coast Karting opened in April 2017 and offer a purpose built 500 metre outdoor, flood lit track, close to Bournemouth Airport. As well as year-round exclusive group hire, they also run an annual championship for aspiring Lewis Hamiltons to race against some regular competition. More details are available on their website. (https://www.southcoastkarting.co.uk/)
"Until Bytes Ahead can afford to advertise at Ferrari's test track in Maranello, I'm quite happy to support a business that's a little more local to me," Brent said.