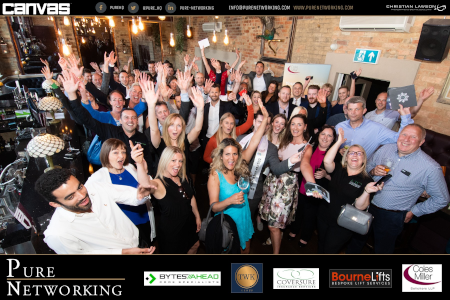 Sponsorship of Pure Networking event, 30th May 2019
"It felt more like a party than networking!" said Bytes Ahead Director, Brent Campbell, reflecting on the Pure Networking, Bournemouth event yesterday.
Pure Networking had the run of local loft bar, Canvas (http://canvasbournemouth.com/). More than 100 businesspeople covering a wide range of ages and professions attended the event, which Bytes Ahead co-sponsored.
"I've been to other networking events where it's quite difficult; people aren't very smiley," Brent continued. "But Dion McCarthy is such a great host and everyone at Pure Networking is so friendly, it has a completely different atmosphere."
Brent was there to specifically promote our easy invoicing app, Go Invoice (https://go-invoice.com). Armed with leaflets and business cards, he was on a mission to show any smaller businesses and start-ups at the event just how straightforward it is to set-up and use. The app' is currently on its way to HMRC 'Making Tax Digital' approval, which potential customers were interested to hear.
"I know networking works because I've met some really useful contacts at previous events, both potential clients and potentials suppliers," Brent explained. "It looks like last night will be prove to be worthwhile for us and I hope it was the same for everyone else who was there. I'm really pleased we decided to sponsor the evening!"
Pure Networking run events for friendly business owners and professionals in Bournemouth, Christchurch and Poole. Unusually, the Dorset based group doesn't require attendees to pay a membership fee, just to register and 'pay as you go' for events you want to attend. The aim of their networking events is to create a sociable evening that will allow business to flow. Their next event is a Garden Party on 27th June – find out more here (www.purenetworking.com)